The simplest way to entertain your children is to use the items you already have in your house. We offer you to look into your kitchen and grab some noodles for he Noodle Art.
Preparing Colourful Noodles
You will need:
noodles of different shapes and sizes
rubbing alcohol
different coloured food dyes
ziplock bags
paper towel and plates

Place one or two handfuls of dry (uncooked) noodles into a plastic bag, add a few tablespoons of rubbing alcohol and 4-5 drops of food colouring. Tie the bag tightly and shake until all noodles are coloured. After that put the coloured noodles on a paper towel and wait till they thoroughly dry. Prepare noodles of different colours.
Some tips:
If you want to make orange colour, start with yellow food colouring, then add the red drop by drop. Doing it vice versa doesn't seem to work well.
To make green, again start with the yellow, then add the blue drop by drop.
To make purple, start with the red and then add the blue drop by drop.
Making Pictures
You will need:
coloured noodles
glue
cardboard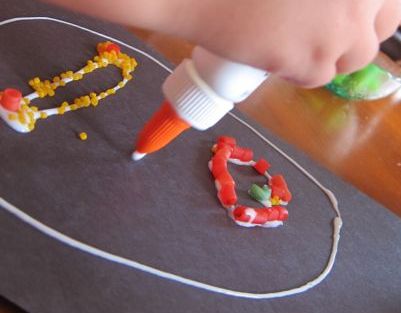 There are different ways of making pictures – children can put glue on each piece of macaroni and attach them to the paper, or you can 'draw' contours of the future picture with the glue and then attach macaronis.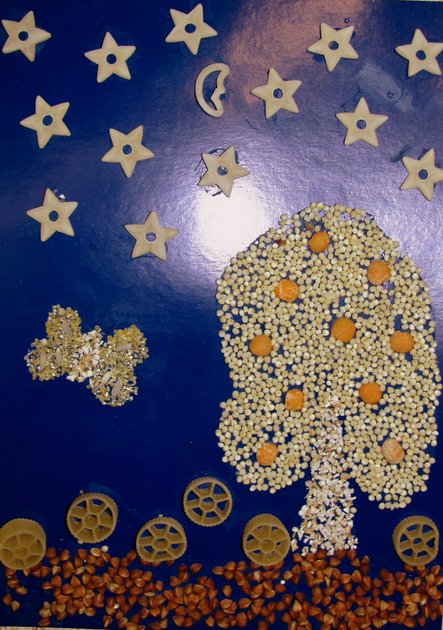 Gluing macaroni to the contours is a first step, but if you want to train children's imagination more, draw a picture and suggest a child to add something to it, for example, a macaroni hair to a girl or a mane to a lion.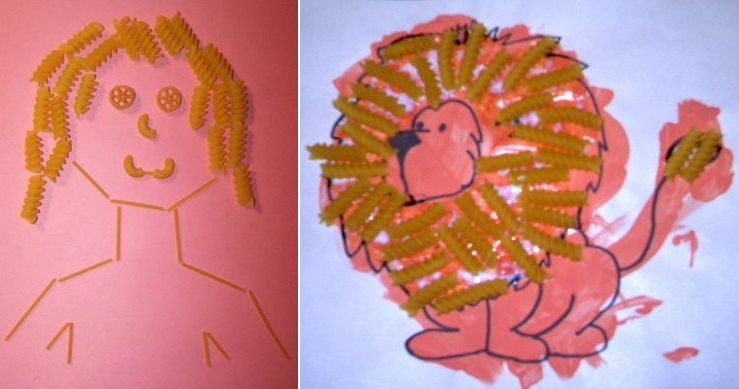 Making Bracelets & Necklaces
Take a string or yarn and cut the length of a necklace or a bracelet for your child. Put a sticky tape around the ends of the string, so it won't fray. You can also tape one end of the yarn to the table to make the process easier.
When the macaronis are strung, tie the ends of the string so the child can wear it.