It sometimes happens that a child doesn't want to eat some food, but if you make a dish in a special way, it will suddenly become exciting and tasty. Another way to attract a child is to cook the dish together: you can ask them to wash vegetables and fruit, cut the dough and made some shapes of it. Children adore bright and unusual tableware, so why not serve the food in one of them?
Here we suggest you some interesting ways of decorating children food, which you can make together with your child every day or for special occasion like a Birthday or Christmas.
Appetisers & Sandwiches:
You can use any ingredients for sandwiches, the most common ones are: cheese, ham or sausage, olives, tomatoes, carrots, cucumbers, radish and greens (lattuce, dill and parsley).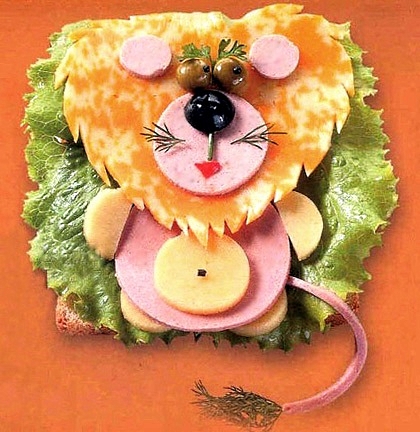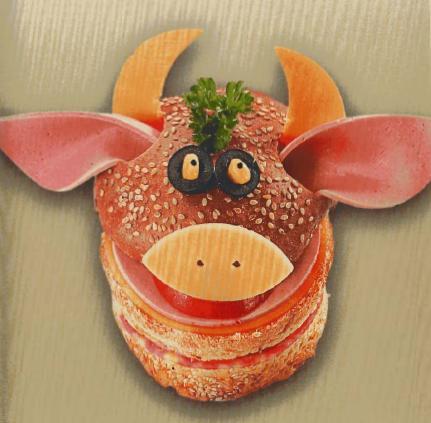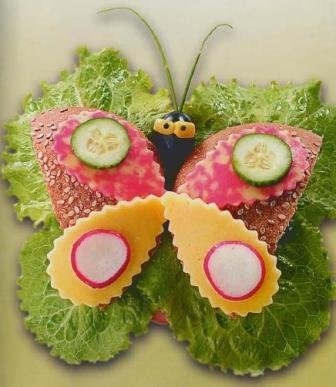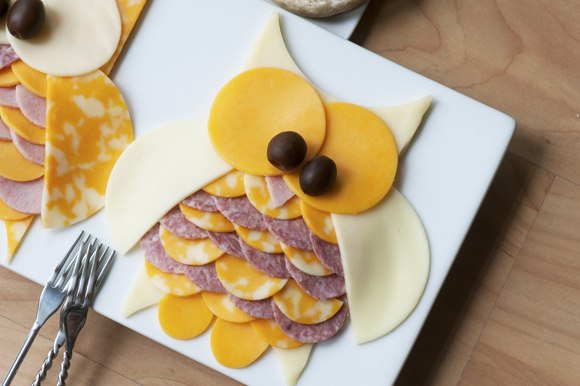 Caterpillar Pizza Appetiser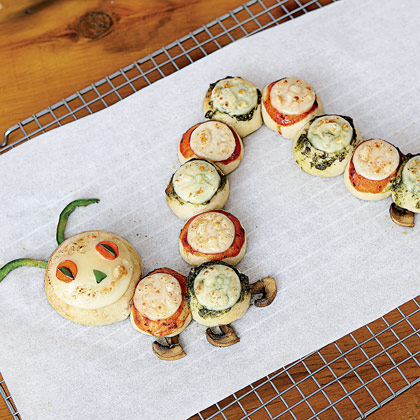 Buy the pizza dough, unfreeze it and divide it into 15 balls (diameter 3 cm);
Put the balls onto the baking tray, slightly flattening them;
Under each ball, place halves of champignon segments to make caterpillar's legs.
Use a brush to cover everything with olive oil and bake until the edges are slightly brown (appr. 10 minutes).
While the dough is being baked, prepare decorations: cheese circles, tomato eyes, pepper antennas.
Prepare sauces: for a red one, use a ketchup or mix cut tomatoes with mayonnaise, and for a green one, mix cut greens with mayonnaise or sour cream.
After the dough is slightly baked, put it out of the oven and decorate: cover each ball with sauce and put prepared ingredients (like in the picture or in your own way).
Then put the caterpillar back to the oven for 8 minutes.
Serve it on the lattuce!
Monster Tacos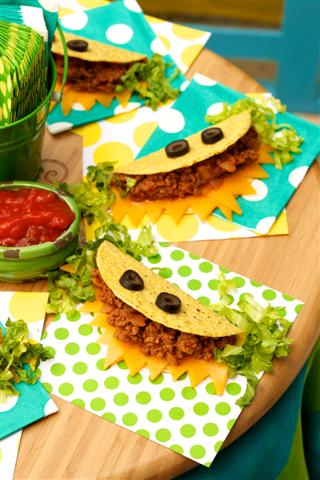 Use tortillas or make an egg omelette for monsters "head";
Fold them in half and put zigzag cut cheese on the bottom half;
Fill with minced meat, mixed with tomatoes, peppers and your favourite sauce. You can use any filling from tacos recipes;
Use olives as eyes ("glue" them with mayonnaise or sour cream);
Hot Meals
Fish Chop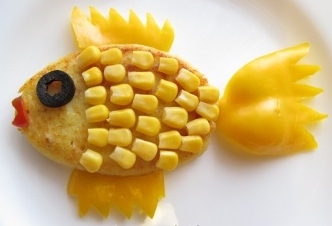 Wash and clean the fish fillet (choose the fish you and your child like) and boil with 1/4 tsp of salt and turmeric powder for 7-8 min;
Smash the boiled fillet and put aside for a while;
Boil 2 potatoes in salty water;
Smash potatoes and mix them with smashed fish;
Mince onion and 1-2 tsp root ginger and add them to the mix;
Put 1 lightly beaten egg and spices to your taste;
Add dry, unflavored breadcrumbs into the mix or roll the chops in them before roasting;
After the croquettes are fried, make a fish like in the picture, using cheese, corn, olives and sweet pepper.
Dinosaurs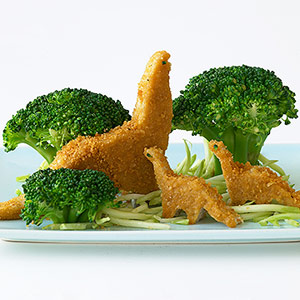 Here is another variant of shaping fish chops. Use broccoli to make trees and lettuce, speenach or asparagus to make "grass".
Here is how Japanese parent decorate their children's school lunches. This kind of culinary art is called "Kyaraben".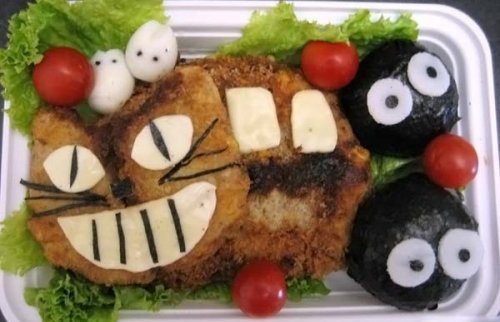 Rice Bear Sleeping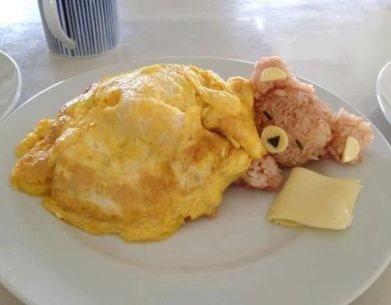 We bet your chold won't be able to refuse to eat this!
ul>
Boil rice and mix it with brown soy sauce to salt and colour it;
Shape a bear (at least his head and paws, the body can be formed just into a pile), make a nose and ears from cheese and eyes from olives;
Put your favourite sauce onto the bear's body and cover it with omellete, making it look like a blanket;
Fun Soup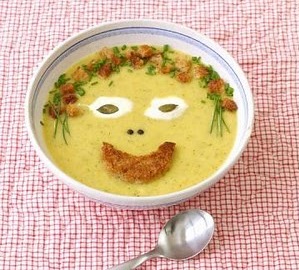 Do your children love eating soup? If they don't, we hope this recipe will help you to attract them, if they do, then why not have just a little more fun?
Ingredients for soup:
4-6 cups of water;
a can of sweet corn;
1 bunch of fresh spinach;
1 bunch of fresh or dried herbs (basil, red basil, sage and lemon thyme);
1/2 cup of heavy cream;
2 tablespoons of butter;
Approximately 1 teaspoon of cayenne pepper;
Salt and pepper to taste.
Ingredients for decoration:
Rusks (you can make them yourself, just fry the cut bread in the frying pan without any oil for 5-10 minutes);
Sour cream;
Fresh greens (spring onions, parsley, speenach, etc.);
1 olive;
Boil the water in the pan and at the boiling point add corn, cut spinach, cream, butter, cayenne pepper, salt and pepper. Let it boil for 5-10 minutes, let cool and mix the soup in a blender until the consistency is fused together.
Pour the soup into a bowl and make a face, using sour cream and half olives for eyes, rusks with greens for hair and fried bread crescent for a mouth.