Walking across a country is a big undertaking, particularly if you've spent your 'training' period hanging out in the south of France with friends, eating cheese and drinking wine. It was the situation I found myself in when I set out for my month-long walk across the north of Spain. The walk – a famous pilgrimage called the Camino de Santiago ('camino' means 'walk' in Spanish) – follows various different routes, which all eventually lead to the cathedral of Santiago de Compostela, a city in the Galician province of northwest of Spain. I chose to walk from Saint-Jean Pied-de-Port in the very south of France, a traditional starting place for the Camino, which gives walkers 800 km to cross before they arrive at Santiago de Compostela.
The so-called 'training' camp meant that I arrived a little apprehensive at the tiny train station in Saint-Jean, which is situated in the foothills of the Pyrenees Mountains. When I arrived it was early evening, and everything was bathed in the beautiful pinkish dusk light. Everything also appeared to be closed. I became steadily more anxious as I walked through the sleepy little town – I hadn't had a cheese fix for hours – until I caught sight of another 'pilgrim', recognisable by his hefty backpack and serious walking boots. I hurried over to him and asked if he knew where the nearest hostel was in my rather bad French, and he replied – in perfect English, despite being German – that he was going to the special pilgrim's hostel, and that I should follow him.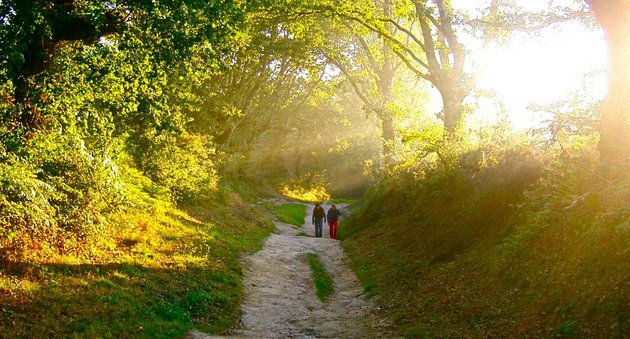 The Camino de Santiago (translated as the way of St James) is traditionally a Catholic pilgrimage, however, there are many reasons why people walk it. I myself am not Catholic, but love walking and was drawn to the idea after a friend told me about the beautiful landscapes and interesting people that she had met along the way. The cathedral in Santiago de Compostela is supposed to house the remains of the apostle Saint James, believed to have been transported by boat from Jerusalem to northern Spain in 44 AD.
Consequently, the route was one of the most important Christian pilgrimages during medieval times, along with Rome and Jerusalem. It was a pilgrimage route on which a plenary indulgence could be earned, which meant total remission from all sins. Today, the tens of thousands of pilgrims who set out every year travel by foot, bicycle, and even horse or donkey, either for religious or non-religious reason. Outside religion, the reasons include travel, sport, the spiritual experience of removing oneself from the bustle of daily life, or simply the challenge of walking for an extended period.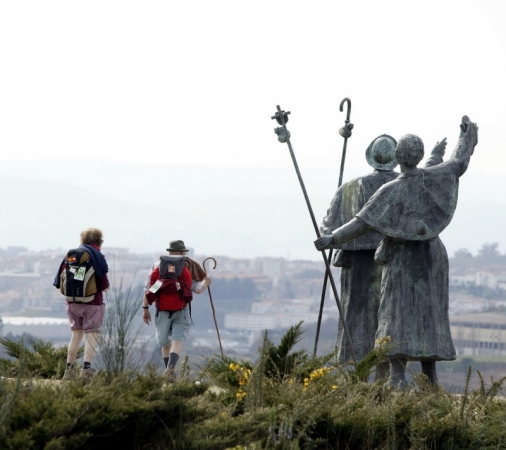 The start of my pilgrimage began when I arrived at the pilgrims' hostel (known as an 'albergue'.) There were already about 20 pilgrims waiting in a dining room for dinner, which was being cooked by a stern-looking elderly woman. I was shuffled off into a room to receive my 'pilgrims passport' and my scallop shell. I was told that the passport should be stamped at every albergue and church I visited, to show that I had been walking consistently – as a pilgrim you are not meant to spend more than one night in each hostel.
The shell is a symbol of the Camino, which is found on the shores of northwestern Spain in Galicia, near Santiago de Compostela. It has taken on many mythical meanings, including the belief that the grooves in the shell come together at a single point, representing the different routes taken by pilgrims that all finish in Santiago. Equally the shape of the shell may have served practical purposes, as it is the right size for gathering water, drinking from, and even eating out of as a makeshift bowl. It also makes a very impressive take-home souvenir – the shell that has crossed Spain by foot with you, your trusty companion.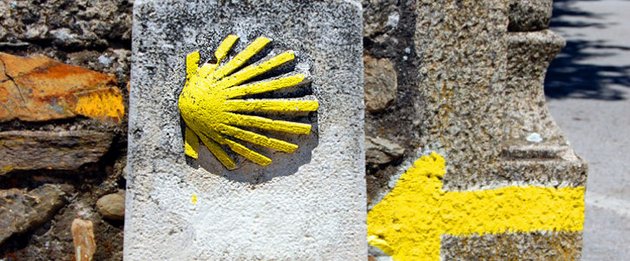 The cheese-training resulted in a challenging start with the first day of walking pretty gruelling. I hadn't slept well the night before (lots of snoring in the shared dorm – remember to pack earplugs!), so I was already pretty tired when I set out for my 25 km hike through the Pyrenees mountains. A film was made recently called The Way starring Martin Sheen, about the Camino. The start of the film sees Sheen's son fall and die in the first part of the walk – the very stretch that I was setting out on from Saint-Jean-Pied-de-Port. Needless to say I was a little nervous. However, apart from the genuine exhaustion that I experienced climbing up to the cloudy Pyrenees peaks, the day was unmarred by my indulgent French escapades.
My Camino went pretty smoothly, aside from the odd blister. It took me just over a month to reach Santiago de Compostela, and along the way I had a myriad of extraordinary experiences, witnessing some of the most stunning countryside, and staying in some truly strange albergues. One such experience occurred at a German albergue in Pamplona, when me and my fellow pilgrims were serenaded with folk songs during breakfast by Johann and his clarinet. I have remained in touch with a number of the wonderful people I met along the way. Although it is unlikely that we will ever find ourselves walking the Camino together again, I myself hope to return when I have a spare month or two to myself. I will, of course, remember to pack earplugs this time.