Does the idea of living on water float your boat? Perhaps it's the 'boat' bit that's not totally up your waterway? However, canal life is not restricted to the narrowboat, and as I have been discovering, you can enjoy all the luxurious benefits of inland living whilst residing on a canal. Houseboats come in all shapes and sizes, and many do not have engines meaning that they are permanently moored – you might even be so lucky as to have a letterbox installed.
Some of the most elegant and costliest houseboats can be found along Amsterdam's idyllic canals. There is even a floating flower market called the Bloemenmarkt and houseboat hotels; for a truly authentic Amsterdam experience you can book yourself into one of these, such as the Blue Wave Houseboat in the centre of the city. You can hang out on your floating terrace and watch the boats and ducks drift by. Many of these boats are built in the town of Maasbommel – these pioneering houses have flexible connections for fluids and electricity enabling residents to live as they would on land with all the usual conveniences, as well as safeguarding against flooding.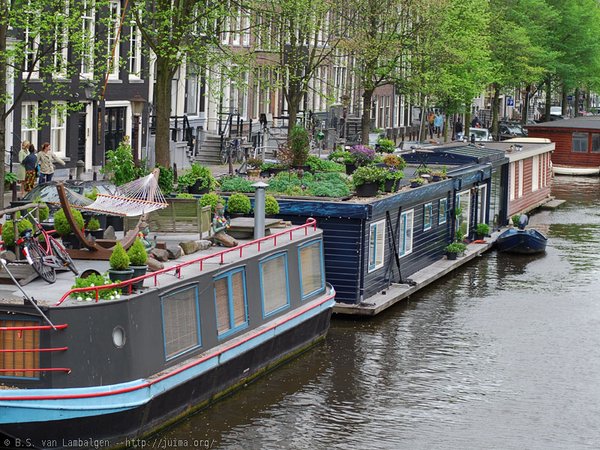 Another extravagant houseboat experience can be found in south India in the watery state of Kerala. These luxurious, grand and slow-moving barges peruse the Keralan backwaters. You can hire one for a couple of days, which includes hire of two oarsmen and an onboard chef who will take care of all your culinary desires. These houseboats are reworked versions of the older 'Kettuvallams' (in the local language – Malayalam – 'kettu' means 'tied with ropes', and 'vallam' means 'boat'), which were previously used to carry rice and spices along the waterways. These boats are very large in comparison with the more familiar English narrowboat – often 70 feet long and 15 feet wide.
They are constructed from Anjili wood with a bamboo pole and palm leaf roof, all eco-friendly and local materials. The outside of the boats are painted with protective coats of cashew nut oil, as cashew nuts are native to Kerala. They usually have a compost bio-toilet, so that waste does not pollute the backwaters. The boats are hand built with care, and are today primarily used for tourism. There are more than 900 houseboats on the Keralan backwater, but the centrepiece is a citadel of Kettuvallams called Alappuzha, boasting 120 of them.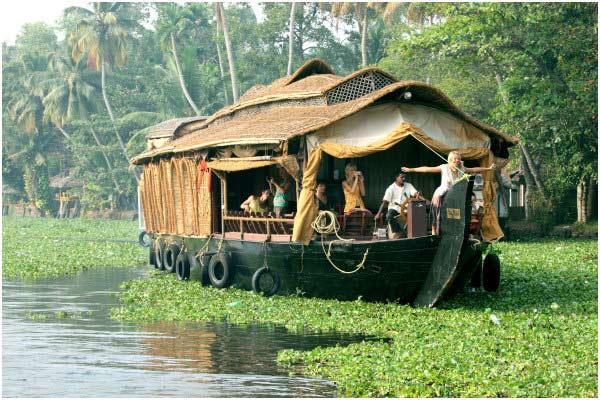 And of course not forgetting the charm of the UK's canals. Although boat life is a little less glamorous, life on the narrowboat remains a popular choice with over 15,000 people living afloat on Great Britain's waterways today. Canals themselves were first used in the UK during Roman times, but the Industrial Revolution truly saw the increase of their traffic. Roads were no longer suitable for transporting large quantities of materials quickly, so until the popular use of the railway in the mid 19th century, narrowboats were used along the canals. It is possible to get permanent mooring on parts of the canal, but many people choose to stay for shorter periods of time in a spot, and then move on – allowing for an ever-changing postcode (although minus the letterbox).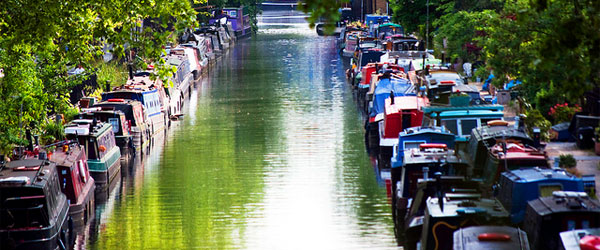 There are many reasons that people choose for living on these boats; from the enjoyment of combining home with a sort of holiday pleasure to living closer to nature to escaping the day-to-day pressures of life ashore, it's not hard to see why this lifestyle is so popular. The 'liveaboards' on narrowboats are made up of a very diverse group, but there is inevitably a strong sense of local community and camaraderie that comes from sharing such a unique and particular way of life. The only thing left is to make sure that you can swim alright before embarking on a watery adventure - just in case.