For me, Rio de Janeiro's Carnival summons up a host of imaginary hot pink feathered samba parades, peacocking their way through hoards of bedazzled onlookers. I have not, as yet, been lucky enough to make these imaginings real – indeed, I haven't even been to South America. However, I did recently join an amateur samba band, which has increased and hammed up my fluorescent dreams no end. Although the main aim of my practices were initially to expend excess tension on the innocent drum, I have become more curious about the possibility of actually joining a real samba school and sashaying my way down the crowded Carnival streets...
Dating back to 1723, the Rio Carnival is now considered to be the biggest carnival in the world. Two million people line the streets each day to watch and take part in the dancing and musical celebrations. Although there are many street parties that spring up with the carnival spirit, the climactic culmination and main purpose of the parade is for the numerous samba schools to compete against one another. Each samba school is composed of neighbours who collaborate together in order to attend the Carnival – they all have either a regional or geographical background in common.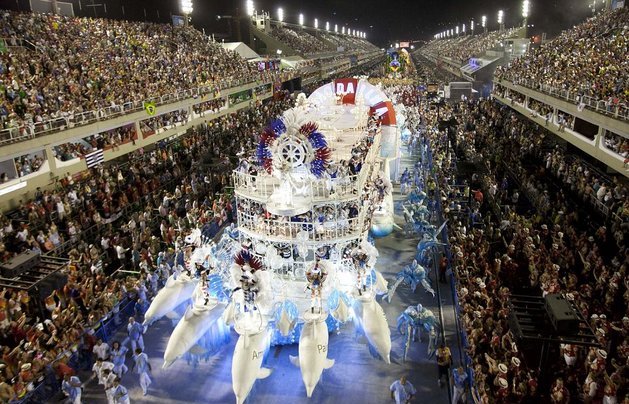 'Sea' themed float with dolphins
The schools each choose a theme (in Carnival terminology called "enredo"), and then develop their floats, lyrics, costumes and overall aesthetics in order to best represent this theme. Thousands of female participants also battle it out for the coveted position of Queen of the Carnival, which symbolically represents youth, sex and beauty.
The themes vary widely. 2013's Carnival presented a huge range, from a 'sea' theme showcasing a float led by five model white dolphins to a giant Stevie Wonder float. Sometimes the schools take on a more serious theme, with highlighted political, environmental or social issues. This year a section of the Grande Rio samba school paraded this year with a message about recycling, with the participants dressed in recycling symbols.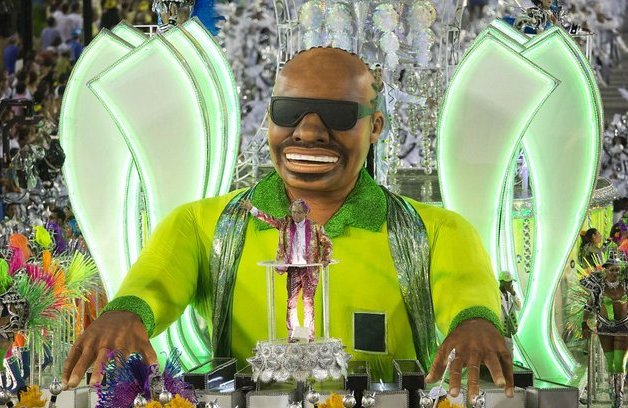 Another unique feature of Rio's, and other Brazilian cities' is the prominence of cross dressing prostitutes – men who have adopted a female gender, and who are otherwise known as 'travestis', sometimes considered to be a third gender (neither male nor female). Cross dressing is obviously a phenomenon that occurs around the world, but the travestis in Brazil are notoriously easier to find than female prostitutes, and are more-or-less an acknowledged part of the economy of desire. During Carnival these travestis are highly visible on the streets, on samba floats, and in the pages of glossy magazines. Although there are carnival groups that parade entirely in drag, they are mostly amateurs out for the day, and would not be called travestis – a word that, in Brazilian Portuguese, usually implies a sex worker. However, for the professional travestis, the unrestrained pursuit of pleasure – a major part of the Rio Carnival – presents an increase of business. Brazil is fairly progressive in terms of its gender politics, hosting the first ever transgender beauty pageant in October last year.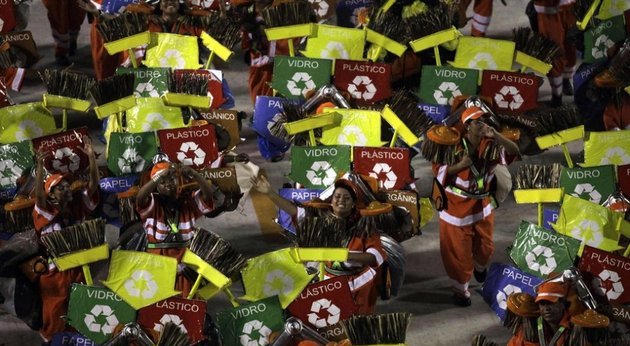 The major part of the Carnival procession takes place in the Sambadrome, a parade ground that was built in 1984. It has a capacity of 90,000, and consists of a 700 m stretch of converted street that is specially designed for parade. Although Rio sees millions of Carnival attendants each year, the good spirit of the festival means that crime stays very low. In 2012 more than 5 million revellers attended Rio's Cordão do Bola Preto street party, and according to police estimates there was not one single reported incident of crime.
A drumming band called a bateria, Portuguese for "drum kit", provide the beat for the gyrating samba schools. I guess I would find myself in a bateria during Carnival, if I am ever lucky enough – or practice enough – to participate. Queen of the Carnival seems a little unlikely at this stage.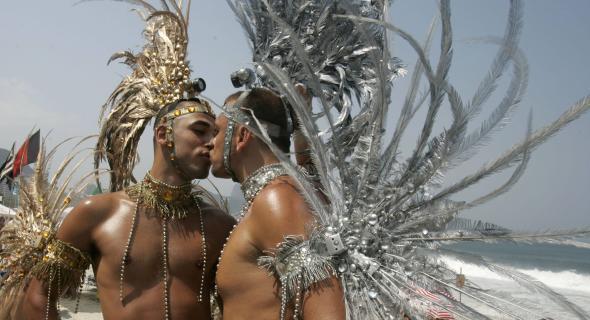 Films such as City of God and Elite Squad have put Rio's favelas – urban shanty towns – on the map of the mainstream tourist itinerary. Partly because of publicity in the wake of these films, the Brazilian government's pacification programme has worked towards improving the image of a number of favela communities.
According to studies, roughly half of the tourists who travel to Rio de Janeiro now plan on visiting a favela, although these spots are still by no means free from crime. This increasing tourist trade has also brought up concerns of an unfair 'poverty tourism', as the tourists who visit these shanty towns spend a relatively small amount of money whilst inside the favela communities. The flip side of this, however, indicates that there has been a rise in business opportunities for favela residents, with tours, hostels, and even party venues becoming available for hire.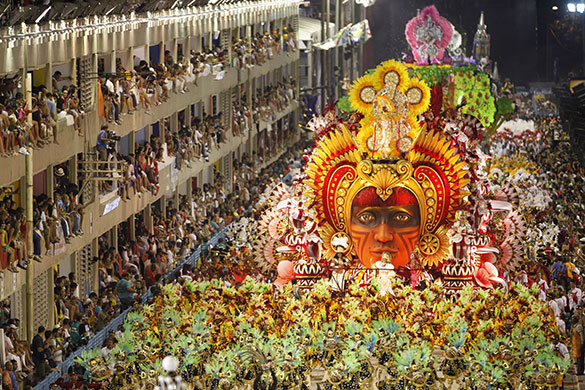 During the 2013 Carnival various celebrities, including Will Smith and Kanye West, visited favelas and posed for photographs with the locals; although it was noted that their visit was fairly brief and no doubt brought along an inundation of security forces. The celebrities then returned to their luxury hotel suites, no doubt to enjoy the Carnival á la champagne. Poverty publicity is a fairly grey area: although it is undoubtedly important that the favelas have media coverage, one wonders about the efficacy of big-shot celebs swanning in and out during festival time. Is it really beneficial for the favela communities, or is it just another publicity stunt for Smith and West?
The fact that Carnival takes place in a country with one of the highest rates of economic inequality cannot be ignored. Studies have shown that the poor segment constitutes roughly one third of the population and, although this is reducing, Brazil is still a fair way off from achieving developed country status. Carnival is a time for dance and music with its many off-shoots of street parties and merrymaking, which extends into the smallest enclaves of the Rio's sprawl. Yet the manner in which people – locals, tourist, celebrities – go about their parties varies vastly, making Carnival an event that divides as well as unites the city.