Feldman Architecture's Mill Valley Cabins, situated about 15 miles north of San Francisco, are environmentally sound and beautifully designed rural retreats. Feldman prioritise their strong connection between construction and landscape, physically building their wonderful cabins into the sides of the hills.
All of the homes have 'green roofs' made from grass and earth. From a bird's eye point of view, they are camouflaged into the natural environment. Inevitably, all architects have to build within a natural environment. But few strive to build alongside nature, incorporating the landscape into their vision or, rather, using it as the very first building block.
In order to reduce the impact on the surrounding habitat, Feldman have created houses that have been built with sustainable materials, use green technologies and are energy efficient. The interior of the cabins is ergonomically designed with a minimalist elegance: tranquillity is the central ethos.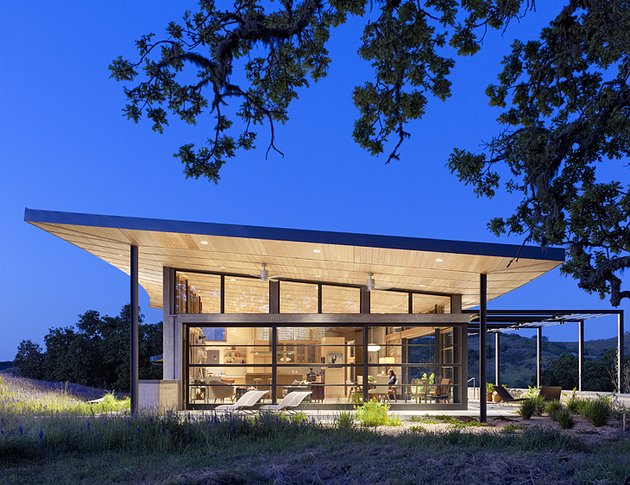 The notion that your surroundings have an impact on your psychological and physical wellbeing is old news. The claustrophobia that is sometimes felt in urban environments is inordinate and also mostly ignored – an over-used cliché, but nonetheless true. Mill Valley Cabins try to provide a modern solution/illusion to 're-connecting' with nature, creating a 21st century idyll: all the urban amenities in the Californian forest. Bear Grylls and Thoreau may turn their overgrown noses up at this fantasy hybrid, but Feldman's conflation of the rural and the urban is ingenious.
Why should one sacrifice the comforting buzz of the Nespresso machine for the sound of a woodpecker? They need not be mutually exclusive. I, for one, get very nervous anywhere outside of the M25, like my 'country walks' to be within easy reach of a tube station and consider camping a form of light torture. Nevertheless, I find that being amongst nature brings an unadulterated pleasure to the eye and can have a healthy humbling effect. Feldman are continuing in the long tradition of architects whose main challenge has been to create a harmony between nature and culture, that age-old battle.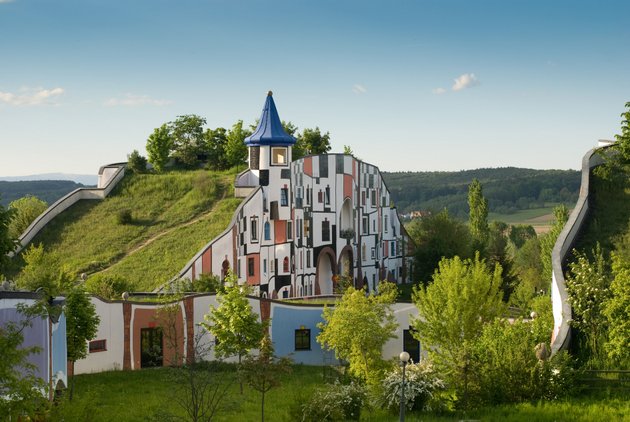 The Austrian artist and architect Friedensreich Hundertwasser (1928-2000) created notoriously assymetrical, irregular designs using the shapes and contours found in nature as inspiration. He believed that human misery was the result of sterile and monotonous architecture and so tried to fight against it by using an aresnal of bright colours, spontaneous vegetation and natural building materials. Hundertwasser even made an incineration plant and sludge centre in Japan look like a work of art.
The architect wanted his buildings to have a symbiotic and organic relationship with their inhabitants. His 'Hundertwasserhaus' in Vienna has rolling floors – in his own words, "an uneven floor is a melody to the feet", – as well as a 'green roof' covered in grass and soil, and trees growing inside the apartment block itself: an extreme manifestation of a romantic aesthetic. His houses bring the outdoors inside. Hundertwasser even declined payment for his 'Hundertwasserhaus', as he believed that its being built had prevented something "ugly" being built in its place, and that this was payment enough.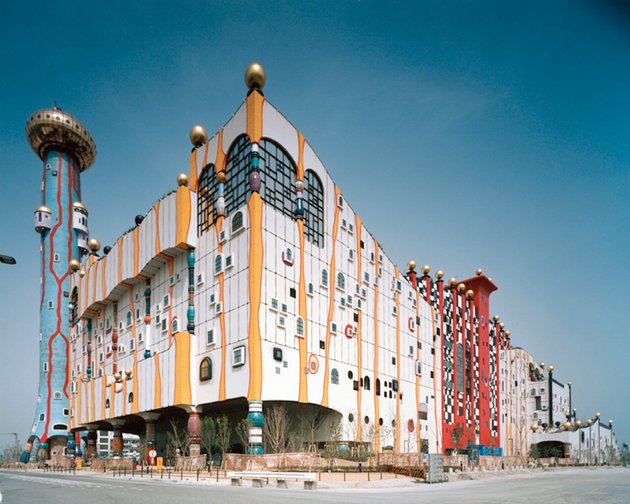 The original architect-artist hybrid was Antoni Guadi (1852 – 1926). Much of his work can be seen in Barcelona, namely: the famous Sagrada Familia, Park Guëll, La Pedrera, and Casa Batlló. His work has a dreamscape quality to it and feels more like interactive art than architecture. Far from feeling as though you have entered into the midst of high (i.e. untouchable) art, you can lounge on the brightly coloured tiles that cover the vast main terrace of Park Guëll and gaze at Barcelona through the rooftop sculptures in La Pedrera.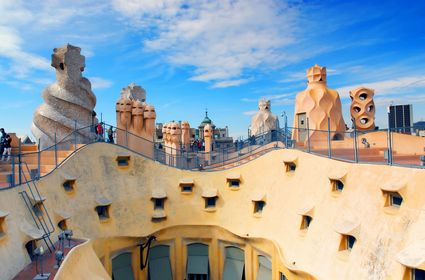 Gaudí was also passionate about incorporating nature into his architecture: he carefully studied patterns in nature – the design of leaves and honeycomb – to create intricate architectual structures. Although he was designing work long before any 'environmentally friendly' ethos really existed, he introduced new techniques such as trencadís, a type of mosaic that is made up of waste ceramic pieces, which can be found all around Park Güell.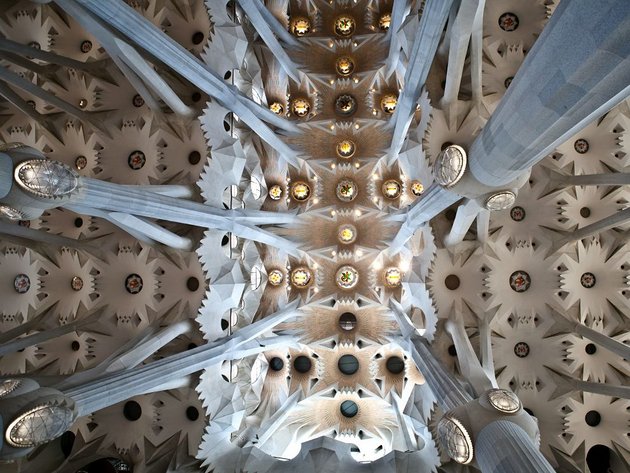 Whether it is possible to create complete harmony between nature and civilization or not, the striving for this aim has created and continues to create architectural spaces to which the word 'buildings' does litte credit.