Small Bathroom Ideas. Part 2
Small bathrooms don't have to feel pokey or uncomfortable, and we believe that you can make the most of any space, no matter how tiny it is. This range of Small Bathroom Ideas is an illustration of the kinds of solution for making the most of your space. These are items that combine spatial ergonomics and elegant design - they have been carefully selected with small spaces in mind.
Experts agree that the arrangement of the bathroom should start with the selection of floor and wall tiles. And only then you should choose bathroom fixtures, toiletries and accessories.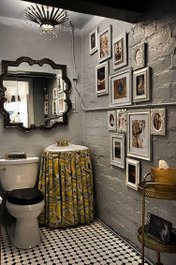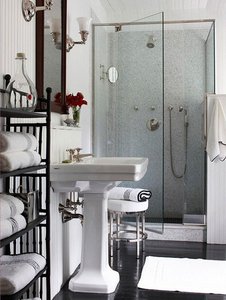 Of course, you won't be able to squeeze everything in a small bathroom! You'll have to think carefully about the necessity of each element and of every little detail: what takes most of the space and what is really necessary?
Visual increase:
For a small bathroom, experts recommend small and not very bright tile (glass mosaic suits well). This will create a visual increase of the room.
The mirror should be large. By reflecting the light, it will visually increase the room. It is usually located above the washbasin. For economy of space you may place it right on the wall, not on the tiles.
Lots of light in a small bathroom will create a cozy atmosphere as well as visually enlarge the area. In addition to the ceiling light, you can use the side wall or space above the mirror. If you have a house, you can make the window (the bigger it is, the lighter is the room, of course). In a flat you can simulate a window with the help of highlights.
Glass ceilings will make your bathroom "breathe" while a transparent glass sink will give the interior some lightness.
Use bathroom and toilet accessories of the same colours as the walls. Then they will merge, thus being dissolved in the interior, and will not clutter it.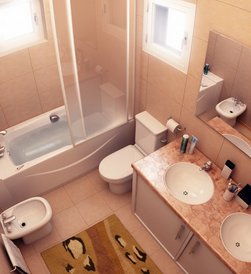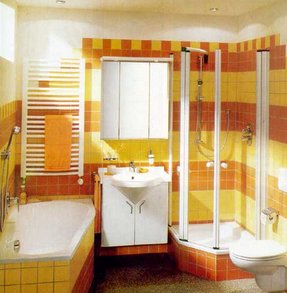 Small Bathroom Ideas. Part 2