Kitchen Turret is perfect for cooking with children up to the age of 4.
Children don't have to be restricted to making fairy cakes and teddybear sandwiches in the kitchen. With a little guidance their creative culinary flair can shine, and they will no doubt love their newfound 'adult' tasks! Show them how to peel bananas and oranges for fruit salads, or have them help you to mix dough for bread or cakes... Not only will you be teaching your kids essential life skills (particularly the cake-baking), but you will also be including them in your own day-to-day life, creating a warm space at home as well as wonderful memories. One particular recipe that is great to make with kids is Gingerbread Men; not only can you bake these together, but you can also ice them, giving them funny expressions and icing clothes. Baking bread with kids is also a wonderful activity to do, as it gives them an opportunity to really get their hands mucky when they're kneading the dough. Making the yeast solution is also loads of fun – kids love to watch the yeast foam up as it starts to react with the water and honey. Just search for fun recipes for cooking with kids on the Internet and you will find millions of ideas.
Don't forget to remind kids to wash their hands before starting to cook – a good habit forming activity! Also if you're worried about spills then you could cover your floor with some old newspaper, and also put aprons on you and your kid(s). Whether you are cooking or washing up (the boring but essential part of the process, which can be made fun with a few bubbles and a rubber duck or two...), the Kitchen Turret is a perfect way to have your children safely raised to a comfortable height. It will make them feel more independent, whilst teaching them some essential culinary skills...
Tips
18 months - 2 years

Children will like pouring some cereals from one unbreakable container to another, or putting in a small saucepan into a large one.
Let your children see you cook, name all the ingredients you use and give them to your child to touch, smell and taste.
Study kitchen sounds: boiling bubbling water, sputtering oil, running water from a tap, etc.
Study temperatures and textures in the kitchen: show and touch cold and warm food, don't touch hot products - just place a hand near so that a child can feel the heated air (you can quickly touch a hot product, so that a child did not get burned).

2 - 5 years

When you cook the batter for pancakes or muffins, ask your child to pour the flour mixture into the bowl, or give the necessary amount of water and let them pour it into the dry mixture, stir the batter, and even better - offer to knead it by hand. It's exciting for children!
Let them help prepare food, just simple actions like banana slicing, spreading butter or jam on toasts and washing fruit.
When the children can control their hands, let them use a whisk to make bubbles in a sink of water
Give them a task to roll out and cut cookie dough

5+ years

You can pour dry pasta or macaroni on the table and invite your children to form letters, numbers and shapes from them.
Using food, teach your children to count, add and subtract. Helping you in the kitchen, your child learns the concepts of "weight", "size", "part" and gets a lot of useful information that will be useful to him in life.
Teach children to measure the ingredients. Give your child a small measure cup, let them fill a glass or a pan with flour (or water, sugar, etc.) and ask to count how many measure cups they added.
Give them a cookbook and ask to read the recipe and tell you what to do. Let them feel a commander of the process.
Recipes
Banana Cupcakes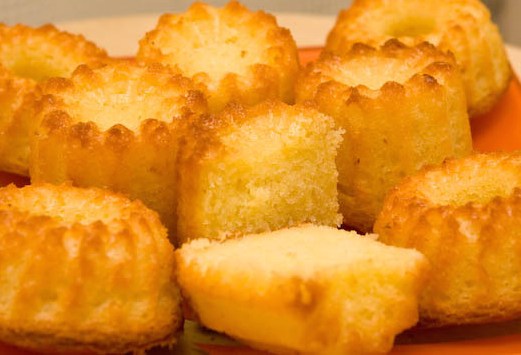 Children of all ages adore stirring-up the batter! To prevent ingredients from spilling on the countertop, give your child an extra large mixing bowl. Put a wet cloth under a bowl to keep it from slipping. Premeasure some of the ingredients, so children can start mixing quickly.
To entertain your children while the cupcakes are baking, help them put the ingredients away and wash up.
! The batter contains raw eggs. Explain to children that raw eggs can make us sick and look after them, to prevent licking the bowl or spoon!
Ingredients
3/4 cup sugar
1/2 cup solid shortening
2 eggs
1.5 cups flour
1 teaspoon vanilla extract
1/2 teaspoon baking soda
1 teaspoon baking powder
1 cup mashed ripe bananas (2-3 bananas)
1/2 teaspoon salt
1. Preheat oven to 350 degrees.
2. Combine cream shortening and sugar in a large mixing bowl, using an electric mixer. Add eggs and vanilla, mixing well.
3. Mix flour, baking soda, baking powder and salt in a medium mixing bowl.
4. Add bananas and dry ingredients to creamed mixture, mixing until just combined.
5. Place paper baking cups in muffin tin or lightly coat with cooking spray. Fill muffin cups 2/3 full with batter.
6. Bake for 20-22 minutes, until muffins are golden brown. Remove cupcakes from muffin tin and place on a cooling rack.
Baked Tomatoes Stuffed with Tuna and Rice
It's a very cheap and eye-catching dish. You can ask your children to help you swipe cut ingredients from a chopping board and assort into different bowls. The most interesting task for them will be filling the tomatoes (you may use an ice cream scoop for this purpose).
Ingredients
1 (5 ounce) tin solid light tuna, packed in oil
1/2 cup cooked rice (basmati or jasmine)
6 black olives, drained, sliced and coarsely chopped
1 small tomato, cut into 1/2-inch cubes
1/2 teaspoon white wine vinegar
1 teaspoon minced garlic
1 tablespoon fresh thyme, chopped fine
4 lemon wedges
4 large tomatoes (beefsteak varieties work well)
Salt and pepper to taste
1. Preheat oven to 400 degrees. Coat a square baking dish with non-stick cooking spray and set aside for a while.
2. Combine tuna, rice, minced garlic, chopped tomatoes, all but one teaspoon of the olives, vinegar and thyme in medium bowl. Add salt and pepper to taste.
3. Slice top off 4 large tomatoes and scoop out the flesh and seeds. Fill them with rice and tuna mixture. Put tomatoes in baking dish.
4. Bake stuffed tomatoes in oven for 12-15 minutes. When ready, garnish them with chopped olives and a squeeze of fresh lemon juice.

To be continued...