Bamboo is a beautiful material that feels clean, elegant and fresh. As you may already know, it's also a fantastically green resource.
Though Bamboo is still new and upcoming in the Western World, there is a history of using bamboo that spans 5000 years of civilization! It has been the material for everything from furniture, dishes and textiles to the structure of earthquake-proofed housing.
Perhaps it's the dream of returning to some mythical log cabin in the forest that does it, but for us there's nothing quite like wood. Wooden houses, wooden furniture, wood-paneling! We'd take them every time, knots and all, because it's the idiosyncrasies that make wood so wonderful. The rings and imperfections are reminders that what gives you shelter, supports your meal or decorates your home was once growing. It took time to become what it now magnificently is.
You get all of this with bamboo (which looks like wood, though being technically grass), but with the knowledge that your chunk of nature has not been hacked out of limited resources. Bamboo is a phenomenally renewable material. It is the fastest growing woody plant on this planet and vastly exceeds its demand. Buy bamboo and you will help this increasingly popular resource become a viable ethical alternative to nature's current victims of deforestation. On top of making it a plentiful material, bamboo's short growth cycle ensures that it's a meaningful contributor to photosynthesis and conserver of soil from very early on in its life.
Bamboo Furniture
Bamboo is great material for furniture: it is very hard and durable, 34% harder than white oak and 2.5 times more stable than most commonly used wood. And to add to its natural strength, all of our bamboo planks are treated with intense heat and pressure, giving it a resistance to water, mildew, fire, and those pesky little insects.
Nowadays books are more than just their content. With so many different designs and formats at hand nowadays, books can be meant for different usages, like "reading on the road", "hanging on the fridge", "gift editions" or "putting in the bookcase". Any books need a good space to be stored in, and beautifully designed especially do! We have two bamboo bookcases to offer you: one featuring sloped shelves and another one featuring lattice work on either sides. Both designs are meant to give the units a lightweight and open style.
---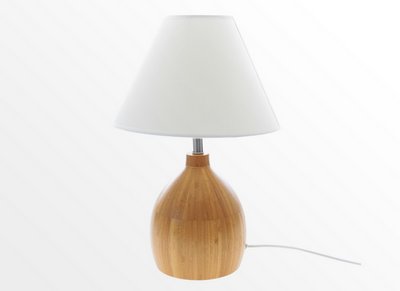 Bamboo lamp can be a perfect match to bamboo or wooden furniture you have. If you want to add rustic decorating style to your home, it's the perfect item to pick. Its simple and minimalist design devoid of redundant decorative elements will match any style of your bedroom, be it country or modern.

Base of the lamp is made of natural bamboo, which is smoothly shaped.
---
>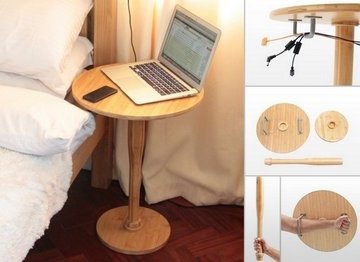 This minimalist bedside table is equally suitable for both a male and female bedroom.Combining aesthetic & practical functions, this table has added extra features:

- The staples can be used for cables;

- Easily comes apart into 3 parts;

- The top doubles as a shield;

- The removable leg acts as a club.

---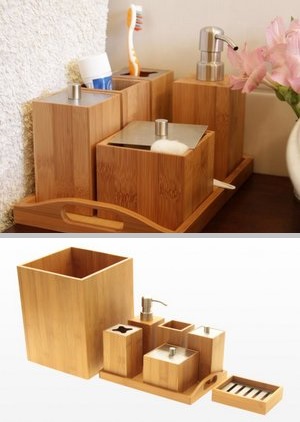 Bathroom accessories are the key elements that contribute largely to the decor and feel of the bathroom. We usually avoid using wooden accessories in the bathroom, as water can ruin them in a while. But natural bamboo is water-resistant making it the perfect solution for bathrooms, where things can get soggy. This set has also been varnished with a non-toxic lacquer for extra waterproof care and making cleaning easier.
The set includes 8 items:
- Dustbin for used toiletries;
- A tray (to store all accessories in bathroom unit when not in use);
- Soap dish;
- Lotion dispenser;
- 2 Boxes with metal lids (for cotton buds or pads);
- Toothbrush holder;
- Cup (for toothbrushes, shaving cream, razors, etc.)